CROMBIE CAREER CONSULTING
Career & Performance Coaching for Early Career Professionals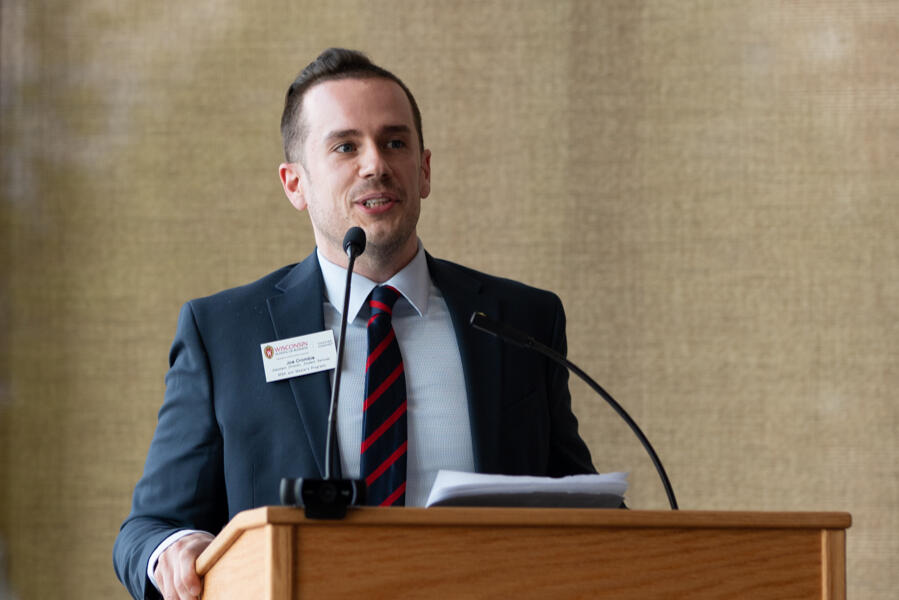 MEET JOE
Hi, I'm Joe Crombie.
My coaching philosophy is rooted in the belief that each individual has the potential to achieve their career goals. My coaching sessions are designed to empower my clients to take control of their lives and confidently recognize their unique strengths.Together, we explore past successes and identify opportunities to leverage those experiences to achieve career goals. We also identify areas that require improvement and develop strategies to overcome any obstacles that may prevent success.There is no one-size-fits-all approach to achieving career goals. I work with my clients to develop personalized plans considering their unique needs and aspirations. Whether it is excelling in college or advancing in the workplace, I am here to provide the guidance and support you need to proceed confidently.
Personalized Career Coaching
Career Coaching
I am a highly skilled career coach who specializes in helping new graduates and early-career professionals find their dream jobs. With my expertise, I guide individuals through the challenging transition from school to work. I provide personalized one-on-one coaching that empowers my clients with the confidence and skills necessary to succeed in today's competitive job market.
WHAT I HELP YOU WITH
Job Search Coaching

Career Exploration

Resume Writing

Cover Letter Writing

Interview Preparation

Negotiating Job Offers
Perform better at work
Performance Coaching
I help recent college graduates and early-career professionals perform better at work by providing them with personalized coaching and mentoring. I work with each individual to identify their unique strengths and weaknesses and develop a customized plan of action to help them achieve their goals. Together, we explore new strategies for productivity, effective communication, and time management. I provide ongoing support and guidance throughout the process. I help young professionals unlock their full potential and achieve greater career success.
WHAT I CAN HELP YOU WITH
Becoming More Productive at Work

Identifying the Skills You Need to Succeed

Values-Based Goal Setting

Professional Development Planning

Achieving Work-Life Balance
One-on-One Coaching
Personalized Coaching
Through personalized one-on-one coaching, I can assist you in developing your mindset and refining the strategies you use to communicate your value to potential employers effectively.
Personalized Action items
Custom Experience
My coaching programs are tailored to each individual to ensure that you receive a unique and customized experience that focuses on your specific needs and objectives.
Tailored to your industry
Tailored Materials
I will guide you in customizing your career materials, such as your resume, cover letters, and networking briefs, to best showcase your skills and qualifications for your desired job or industry.
About Joe:I'm an experienced coach with a background in academic advising, graduate student services, and career development. I bring a wealth of knowledge and expertise to the table, obtained through my extensive experience in various roles in the education sector.For the past four years, I've worked in the School of Business at UW-Madison, serving in various student services roles. I served as the Assistant Director of Student Services for MBA and Master's programs. I work with graduate students in business analytics, supply chain, arts administration, and real estate master's programs. At the school of business, I've demonstrated a commitment to student success as they've embarked on or continued their professional journeys and focused on developing programs that created learning opportunities outside the classroom.My experience extends to Edgewood College, where I served as a Professional Academic Advisor. In this role, I built intentional and collaborative relationships with up to 170 students in the school of education and was praised for developing outstanding rapport with students. I supported strategic partnerships with local school districts to grow programs centered around helping underrepresented populations enter the teaching profession.In addition, I have worked as an Employment Advisor at Fox Valley Technical College and a Graduate Career Advisor at the University of Wisconsin Oshkosh Career Services. In these positions, I collaborated with diverse groups of students on professional development topics and advised students on resume development, job search strategies, and interviewing skills.My coaching services focus on career coaching for early career professionals, and I'm excited to share my extensive knowledge and experience to help individuals achieve their career goals.My passion for career coaching stems from my belief that everyone deserves a fulfilling and successful career. Early career professionals face unique challenges when navigating the job market and building their careers. My coaching approach is focused on empowering my clients to identify their strengths, build their confidence, and develop the skills and strategies needed to achieve their career goals.With my extensive experience in academic advising, graduate student services, and career development, I'm uniquely positioned to provide my clients with valuable insights and guidance. I'm committed to staying up-to-date with the latest trends and best practices in career coaching and constantly seeking new ways to help my clients succeed.My coaching services are tailored to each client's specific needs and goals. I work collaboratively with my clients to identify their strengths, explore their career interests, and develop a customized plan for achieving their goals. Whether my clients want to land their first job, make a career change, or advance in their current role, I'm dedicated to helping them succeed.In addition to my coaching services, I offer workshops and training sessions on various career-related topics. These sessions are designed to help early career professionals develop their skills, build their confidence, and achieve their career goals. I'm an engaging speaker, and my workshops are always informative and interactive.If you're an early career professional looking to take your career to the next level, I'm here to help. With my extensive experience, passion for career coaching, and commitment to my client's success, I'm the ideal partner for anyone looking to achieve their career goals. Contact me today to learn more about my coaching services and how I can help you succeed.
Client Testimonials

Joe is one of the most down-to-earth, caring guys I have been around. Joe's strengths are his personality, being able to relate to everything because of his broad experience throughout his career
— Brandon. C

Joe was very informative and easily accessible. Joe gave high-quality feedback and made sure that all my questions were answered at every step of the interview process.
— Turner. K
With my expert guidance, you will gain the confidence and skills you need to overcome obstacles and pursue new opportunities with confidence. Contact me today to schedule a free strategy session.
© Crombie Career Consulting 2023. All rights reserved.